Tahrir Square was full again today. I was on the metro at mid-day and saw people coming on the metro car from the Square. They reported there were a million people in the square. Each Friday since the revolution there has been a protest in the Square with a different theme each time. Today's protest was called the Friday of Purification and Accountability, with the main demand being to have former president Mubarak stand trial and those who were in power with him also be held accountable and out of office.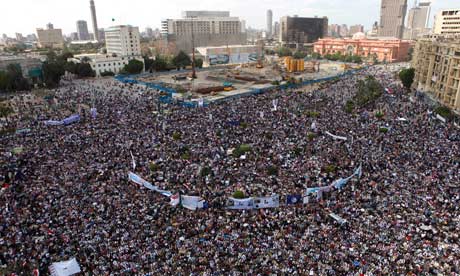 Photo from the Guardian.co.uk website. Caption there reads:
Tahrir Square protesters called on the field marshall to meet the demands of the people.
Photograph: Amr Nabil/AP
Here's an article about the protest.
Here's a short video of the crowd:
I was told the sign in the above photo says he would like to be fishing in Sharm El Sheikh too! (That's where former President Mubarak is now. Sharm El Sheikh is known as big resort area on the sea.)
The photo of the flyer discuss demands from the people standing in a row holding the flyer. They would like there to be a civilian council, rather than the armed forces, in charge of the transition. They would like the civilian council to oversee the developing of the new constitution with presidential elections coming only after the new constitution is in place; they suggest 2 years.
A military helicopter was circling the square on a regular basis when I was there.
This protester was anxious for me to take a photo of his shirt that says Egypt Moving Forward.